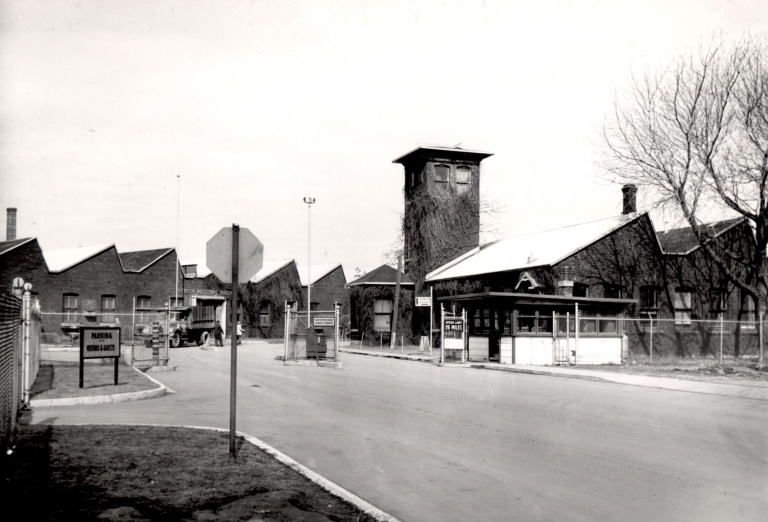 i
The munitions factory at the corner of rue Gilberte-Dubé and rue Jacques-Lauzon (the gunpowder storage sector)
Photo: April 13, 1960 © Borough of Verdun archives
During the first and second World Wars, one of the largest war factories in Canada was located in Verdun: Defence Industries Limited. Today, at rue de la Poudrière, traces of this chapter of history may still be found.     
In 1914, World War I broke out. As an ally of England, Canada contributed to the war effort by sending soldiers and producing military equipment. Verdun was a key city in this regard. In 1916, Verdun's City Council granted a construction permit to British Munitions Supply Co. to expand its facilities on the corporation's territory. This company produced gunpowder and detonators, employing nearly 4,000 people and mainly women, a number of whom lived in Verdun and surrounding area. At the end of the war, the facilities were sold to Dominion Textile Company Limited, which went on to produce bedding there.
When World War II broke out, the gunpowder plant immediately began operations again. Following the defeat of the Allies in Europe in June 1940, England was in dire need of military equipment. The ammunition factory was therefore restored and modernized. New buildings were constructed and everything was linked to the railway network in Pointe-Saint-Charles. Up and running in May 1941, the plant was named Defence Industries Limited and became one of the largest war factories in Canada, if not the largest of all. In May 1943, the Verdun plant's average monthly production was nearly 45 million bullets and it produced over 42% of the country's production of .303 bullets.
At the end of the war, the site of Defence Industries Limited was transformed into an industrial park. In November 1945, 26 small companies of all kinds located on the site. Among them were machine shops, manufacturers of furniture, pharmaceuticals and rubber goods as well as printing plants. Following a fire on June 1, 1979, most of the plant facilities were demolished and replaced by condos and co-ops, which is today rue de la Poudrière sector. Nowadays, all that remains is an original tower to remind us of the importance of this plant in the history of Verdun and the whole world.