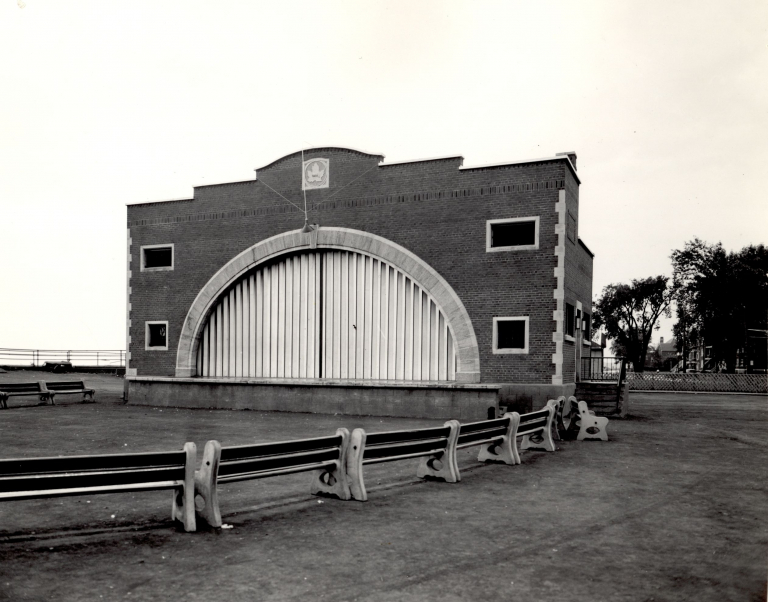 i
Front façade of Sing Song Theatre on boulevard LaSalle, between rue Woodland et rue Argyle
Photo: 1939 © Verdun Borough archives
Of all the buildings that existed on Verdun territory, the outdoor theatre was unquestionably the one that was the most short-lived. Built in 1938 and demolished in 1945, the outdoor theatre—which the Verdunite called the Sing Song Theatre—was a very popular place nevertheless.
During the 1930s and 1940s, the City of Verdun undertook the construction of many buildings dedicated to sports and cultural entertainment. At the top of rue Woodland, along the waterfront area, City Council began the construction of an outdoor theatre in 1938. This theatre presented shows and musical entertainment evenings.
Right next to the outdoor theatre was the Verdun Dance Pavilion—a building that housed a dance hall and a refreshment area. Residents got together there on weekends to dance, lounge around, indulge in an ice cream dessert or just listen to music. Many dance and music shows were held here as well. The Verdun Dance Pavilion welcomed a number of renowned performers, including Oscar Peterson.
The Sing Song Theatre and Verdun Dance Pavilion didn't last very long, however. Due to the many clashes between servicemen and zooters, the City of Verdun decided to demolish these buildings in 1945.