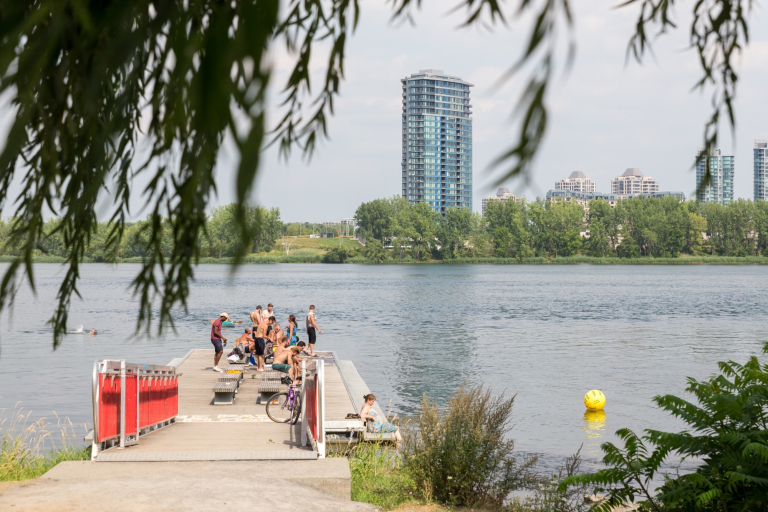 i
Floating pier in Parc du Quai-De-La Tortue Summer 2016
© Emmanuel Campeau - Verdun Borough archives
Verdun is bubbling with vitality, more than ever. Long considered to be Montréal's best-kept secret, the Borough has been enjoying remarkably rapid development and has been delighting more and more people in the past few years, through its neighborhood life and its many attractions.
Located along the St. Lawrence River, only ten minutes from downtown, Verdun is home to over 66,000 residents spread out in three districts on a human scale: Desmarchais-Crawford, Wellington-de-l'Église and L'Île-des-Sœurs. Easily accessible by public and active transportation, the Borough is served by three metro stations and a number of bus routes, in addition to its nearly 30-kilometre cycling network. A station of the Réseau électrique métropolitain (REM)—Greater Montréal's future rapid transit system—has been planned, at the approach to the new Champlain Bridge, in the L'Île-des-Sœurs district.
The river, a natural richness
The omnipresent river and its lush shorelines, extending as far as the eye can see, are indisputably Verdun's most magnificent natural resource. The waterfront areas have everything imaginable to please every taste, with many green spaces, a bicycle path, a walking trail and a number of high-quality recreational facilities, such as the popular dance floor on îlot John-Gallagher and the unique skateboard area at Parc Arthur-Therrien. With the development of the Verdun beach, the construction of Quai 5160 - Maison de la culture de Verdun as well as the Verdun Auditorium's renovation, it is a real cultural and sporting hub that is taking root along the waterfront. 
Over and above the fifty or so parks and green spaces to discourage residents from becoming "couch potatoes", the Borough offers many sports and cultural activities. With family festivities, sports events, indoor and outdoor shows as well as exhibitions and activities for children and grown-ups at the two libraries, Verdun is humming all year long.
A lively neighborhood life
The heart of the Borough is brimming with vitality from the oodles of local shops and other commercial establishments, neighbourhood cafés, restaurants and bars along rue Wellington and surrounding area. Vibrant and attractive, Promenade Wellington is also the scene of many cultural events, such as Cabane Panache et Bois rond (a unique lumberjack camp!) in March as well as the Festival Marionnettes Plein la rue in August. In the L'Île-des-Sœurs district, the wide range of office spaces are enhanced by a great variety of shops and services at Place du Commerce, while a number of commercial establishments have located in the Pointe-Nord sector.