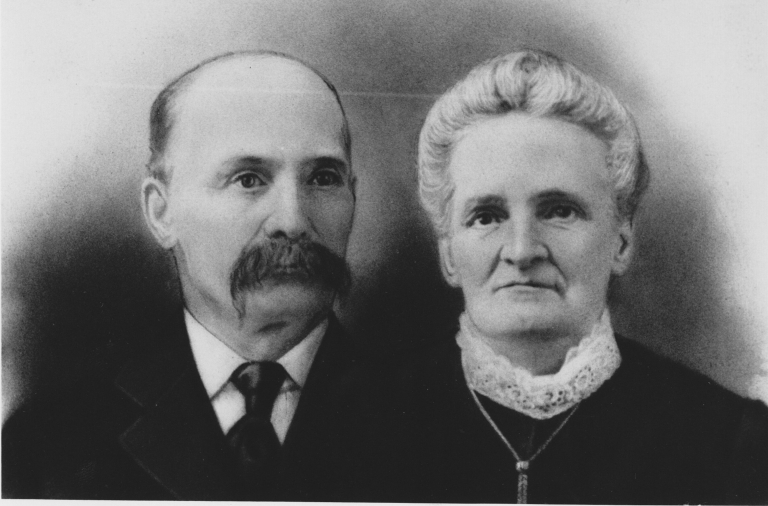 i
Marie-Alphonsine-Bernadette Legault-Deslauriers and François-Xavier Bélanger
© Société Historique Cavelier-de-LaSalle
Married to François-Xavier Bélanger on November 28, 1907 in the Parish of Saints-Anges-de-Lachine, Marie-Alphonsine-Bernadette Legault-Deslauriers lived in the oldest house in LaSalle, called Bas-Lachine in those days. A family house that she adored and where, like most of the women of her era, she led a life focused on managing her household, as Mrs. Bélanger. 
For 150 years, the house belonged to the members of the Bélanger family, owners of the land there. Her father-in-law, Joseph-Hermanfroye Bélanger, gave over one lot of his land to allow the construction of Saint-Nazaire chapel school. Then in 1928, her husband and brother-in-law Joseph-Maximin-Frédéric-Marie Bélanger, sold two pieces of land at an attractive price to facilitate the construction of Saint-Nazaire church, built from red bricks and completed in 1932.
Her husband, a member of LaSalle City Council, supported a tax exemption policy to encourage new businesses to locate in LaSalle. In 1929, Fleischmann's Yeast purchased a piece of land over 51,000 m2 in area from the Bélanger family, near the future site of Saint-Nazaire church, in order to set up its production plant there.