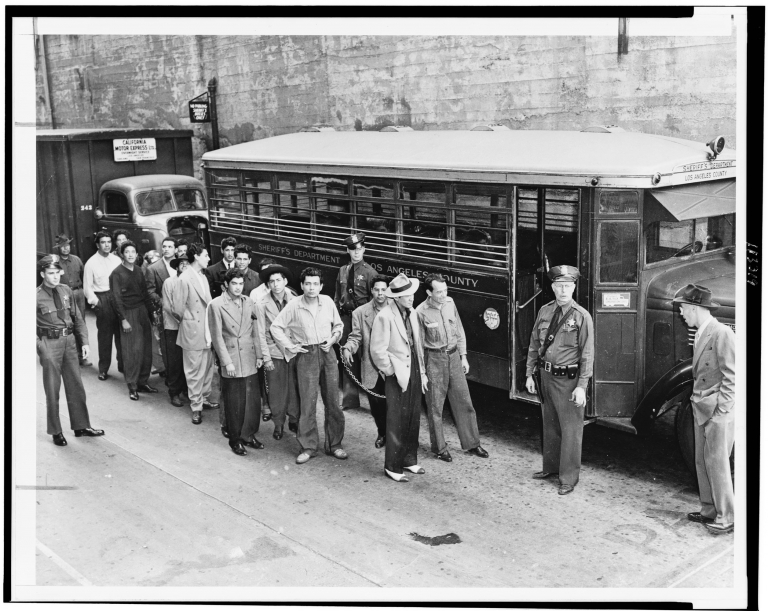 i
A line of zooters being arrested in Los Angeles following an altercation with sailors
Photo: June 9, 1943 © Library of Congress Prints and Photographs Division, Washington, D.C. 20540 U.S.A.
At the end of May and beginning of June 1944, the Montréal area was rocked by a series of fights between servicemen—especially sailors—and zooters. Zoot suits were in fashion in the forties: a long, oversized jacket with broad, padded shoulders, high-waisted baggy pants, a big bowtie, a wide-brimmed hat and a long watch chain. This flamboyant style of clothing was mainly widespread in North America and symbolized young people's rebellion and non-conformity. 
The public claimed that zooters had anti-social, anti-patriotic behaviour. Canadians, and particularly servicemen stationed in major urban centres, grew to detest zooters.
On June 3, 1944, a violent explosion rocked Verdun. Nearly 100 angry sailors left the port of Montréal and headed for the Verdun Dance Pavilion on foot and by taxi in order to attack some sixty youngsters who were not all zooters. The two groups fought each other with bottles and sticks. The fight lasted over an hour, until approximately 11 p.m.
Dozens of army patrollers and police officers were forced to intervene in order to restore order. These confrontations also injured dozens of people—zooters, sailors, spectators and police officers from Verdun and Montréal. Over 40 people, including 37 sailors, were arrested. Following the fight in Verdun, the military authorities prohibited naval personnel from going to the Pavilion and cancelled all leave for a week, in addition to imposing a 9 p.m. curfew.